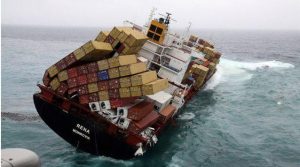 A large cargo ship with 24 crew on board is believed to have sunk in the Atlantic Ocean, according to the Uruguayan navy.
The Stella Daisy, which was being used by a South Korean company, had issued an emergency call on Friday shortly before noon local time (14:00 GMT), saying it was taking on water, the navy said on Saturday.
Merchant ships in the area spotted a life raft and were working to rescue two sailors, South Korea's Yonhap news agency reported, quoting government officials in Seoul. Quoted from (Aljazeera).
The sailors' nationality was not known. The crew comprised 16 Filipinos and eight Koreans.
Because the freighter was far off the Uruguayan coast, the navy organized a search by four merchant ships in the area, spokesman Gaston Jaunsolo told the AFP news agency in the capital, Montevideo.
He said the first ships to reach the scene had detected a "strong smell of fuel" and spotted debris, "an indication that the damaged ship had sunk", a statement from the navy said.
The ship, a Very Large Ore Carrier with a capacity of more than 260,000 tones, was registered in the Marshall Islands.
It had departed from a port in Brazil and its planned destination was not immediately clear.