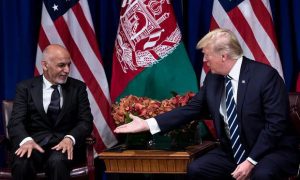 The US president called on president Ghani to close Taliban's office in Qatar, which has been a channel for dialogue for more than six years.
Ghani is expected to agree to the closure of the office, but a final decision has not yet been reached.
The issue was raised at a meeting between the two leaders on Thursday, the Guardian reported.
It is said that about 36-strong informal delegation is currently in Doha, which the Taliban calls its 'political office'.
Trump is said to be hostile to the maintenance of the Taliban office for several reasons. He portrays it as a failed initiative of his predecessor that had not led to the peace negotiations Barack Obama had hoped for.
Meanwhile, the Saudi and Emirati monarchies have been pressuring for its closure since its inception.
A request to close the office would have to be formally initiated by Kabul, but the ultimate decision would be made by the Qatari government.
However, In February, Ghani told the Qatari foreign minister during a security conference in Munich that the Taliban office should be closed.
Meanwhile, the UN's secretary General's special representative for Afghanistan Tadamichi Yamamoto stressed on Monday that the security situation continues to be a major concern in Afghanistan.
"The security situation continues to be a major concern," he stressed, citing the persistence of the ISIL in the east of the country, with new Da'esh activity reported in the north as well as in Kabul, the capital, making the situation more complex."
"I appeal to the countries in the region to conduct a profound reassessment of their strategic interest and renew work towards a viable peace process leading to an Afghan-owned solution to the conflict. If requested, the United Nations stands ready to assist all parties to achieve this goal." He added.
According to UN's report, at the current rate of deaths due to conflict, by 2020 tens of thousands more Afghans will have been killed.