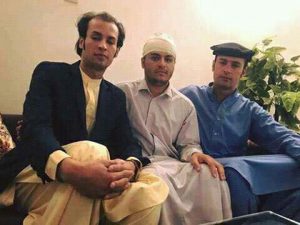 Sayed Abdul Wahid Dadshani – the one who recently threw his shoes at the leader of Hezb-e Islami Gulbuddin Hekmatyar at Herat's grand mosque – was released, local authorities in Herat say.
"Mr. Dadshani was released today morning and returned to his family," said Herat governor spokesman Jilani Farhad.
Sayed Abdul Wahid Dadshani is a young Herati man who threw his shoes at Hekmatyar last Friday, while he was speaking to the people at Herat's grand mosque.
At that time, Mr. Dadshani was severely punished by Hekmatyar's guards and was detained by the national security forces.
Although Dadshani said that he did the action by his own will, and nobody ordered him to carry out such action, but officials of Hezb-e Islami of Afghanistan considered foreign intelligence behind the case.
Today morning, some civil activists, citizens of Herat and Dadshani's family members protested in front of the Herat's provincial building, saying it is not fair and illegal that the security forces arrested Mr. Dadshani, demanding to release him.