The Russian president Vladimir Putin visited an agricultural equipment factory Thursday — and quipped that if he were to lose upcoming elections, he might choose a new career in farming.
---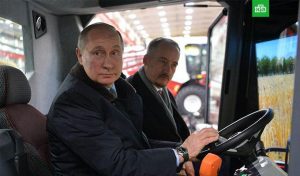 The Russian president made the comments while sitting in a combine harvester simulator at a Rostselmash factory in Rostov-on-Don.
If things didn't go well in the upcoming election, "I'll start work as a combine driver after March 18," Putin said, according to footage published by state-funded news network RT.
"No problem, no problem at all," Konstantin Babkin, chief executive of Rostselmash, responded.
The 2018 Russian presidential election will take place on 18 March and Putin nominated for the four times.