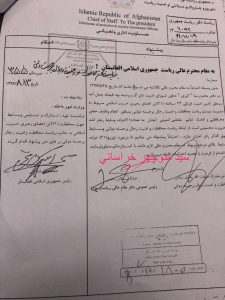 Following disclosures by DID press agency on corruption, monopoly, and bounty of the Afghan central power agency, this time, it received a document that points out the deals and baksheesh on the national assets of the people.
The letter that sent to DID press agency, indicates Afghanistan's Security Council has asked for 25 military Ford Ranger for the protection of Gulbuddin Hekmatyar's circle and his associates, and president Ghani has generously ordered to give them the vehicles.
Now, if this action of the Security Council and the presidency, is not corruption, monopoly, trafficking, and conspiracy while the country's security forces complain about the lack of sufficient equipment and are daily killed due to lack of equipment, then, what is it?
These 25 military Ranger vehicles including light and heavy weapons like 80 Kalashnikov, 90 lumbar pistols, 50 rocket launcher, 5 PK and thousands of more bullets, are given to Hekmatyar by the government.
Gulbuddin Hekmatyar accepted the peace process after years of armed opposition against the current government and it was logical to take down their weapons, but no weapons were sent to DAIG, DDR depots by Hekmatyar; on the contrary, he received hundreds of other weapons from Arg and the Security Council.
A government that its leader has the second "thinker" of the world but his action, is a true example of "political apartheid."
Now, if one raises his voice against these oppression, corruption, monopoly, and plots, then, they label them as "disrupter."