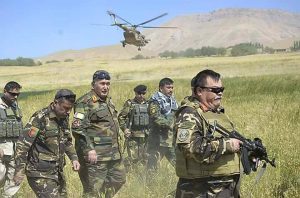 187 scaremongers were killed and 51 others wounded in three days operations in Faryab province, security officials in Shaheen corps said.
Nasratullah Jamshidi, a spokesman for 209 Shaheen corps told DID news agency: as a result of 3-day operations in Almar, Qaisar, Dawlatabad, and Kohistanat districts of Faryab province, 187 insurgents were killed and 51 others wounded.
"Dozens of Taliban commanders and prominent members are among the deaths," Jamshidi added.
"All villages of the central district of Kohistanat are under the control of the government and dozens of mines are detected and defused," he said.