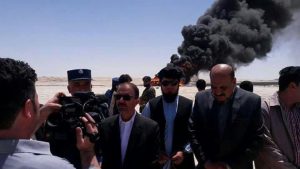 Security officials in Nimroz province reported that more than 5 tons drug was set in fire in the province.
According to (DID) news agency report, these various types of drugs, included chemicals and alcohol which were seized by the police and other security organs in the fight against drugs.
"The burned substances include 559 kg Heroin, 42 kg morphine, 582 kg opium, 44 kg shisha, 450 kg Hashish, 463 kg solid chemicals, 3446 liter liquid chemicals and 14 liter alcoholic beverages." Engineer Same, Nimroz governor said.
"Drug trafficking is one of the hostile act of terrorists. Therefore, we should all give hand to hand to eradicate drugs," Nimroz governor added.
It is noteworthy that the drug has been achieved in recent months and 106 detainees have been transferred to judicial organs, in connection with drug trafficking.