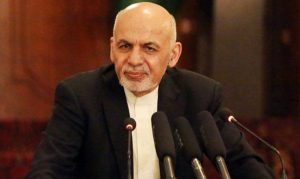 President Ghani stressed on participation of women in leadership, at the celebration of international women's day in ARG presidency.
According to (DID) news agency report, president Ghani as part of the talks said: if we had women rights activists up to now, their efforts are admirable, but in the next phase, we should witness the emergence of women leaders in other important specialties and professions, too.
Mr. Ghani continued that we expect from women to consider defending the constitution, domination of law and counter-corruption, as part of their duty.
"We have to remember that the process of state-building and nation-building will not reach a conclusion without revival of the role of Afghan woman," he added.
The president besides mentioning to some problems women faced with in the society, said; women who work outside the home are seen as a raven and lewd glances find chances to ignore sanctity and dignity of women.
"In the golden era of Islamic civilization, Muslim renowned women played a role in culture and politics, from Khorasan to Baghdad and from Egypt to Cordova." He said.
He also said that resource endowments for backing mosques, schools and artistic activities that were prepared by Gohar Shad Begum still exist after a few centuries. Our culture had not faced fear or instability and women's activity was not considered a thread to identity and its values.
International women's day in Afghanistan is commemorated while, the phenomenon of violence has increased in the country, more than past years; the issue that followed concerns of women rights organizations.