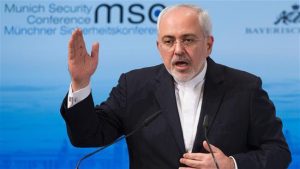 In Munich security conference, Iranian foreign minister in response to a question about Donald Trump's stance on this country said that Iran does not respond to threats and sanctions; but will show a good reaction to mutual respect.
Muhammad Javad Zarif stressed, Iran welcomes strategies which engage the two sides. "Threats against Iran will not work," he said.
Mr. Zarif, in other parts of his speech mentioned the need to improve relations with the Persian Gulf's border countries and said: we must work together to end split and tension in the region.
Iran's foreign minister offered forming a regional dialogue with an emphasis on common interests. Interests that can include the environment, investment and tourism.
Muhammad Javad Zarif after his speech, at the session of question and answer about Iran's support from Syria and chemical weapons issue, said: the use of these weapons not be considered negligible. Iran was the first country that condemned use of chemical weapon in Syria by any groups. Unfortunately, when we were reaching achievements for eliminating these weapons by Iran's help in Syria, Daesh (ISIS) and Al – Nusra front terrorist groups had access to chemical weapons and used them.