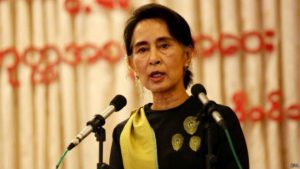 Myanmar leader in her latest reaction about the wave of protests and her silence against the massacre of Muslims in Rohingya, read the 'genocide' in these areas baseless.
Killing civilians have provoked the world Muslims' rage and Aung San Suu Kyi – who has the noble peace prize – has been considered "ignorant" as well as holding her responsible for the killing of Muslims in Myanmar.
Aung San Suu Kyi rejected the alleged genocide and massacre in Rohingya and considered the term 'genocide' a harsh word for the current situation.
Myanmar leader accepted that there are problems but using the term 'genocide' harsh and baseless.
Suu Kyi read the situation in Rohingya as "clashes" not genocide and massacre.
Myanmar leader claimed that many clashes have been carried out in Rohingya. Currently, if Muslims themselves find out that someone from among them, are present in the government, they will kill him/her.
She refuses the claims against herself while there many reports about the violence against Rohingya people imposed by Myanmar's military forces, including massacre and mass violations.
Meanwhile, Ms. Suu Kyi's silence against these behaviors have followed many criticism.