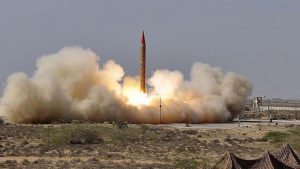 North Korea tested a mid-range ballistic missile Tuesday, according to military officials in South Korea.
"North Korea fired an unidentified ballistic missile into the East Sea [Sea of Japan] from the vicinity of Banghyon, North Pyongan Province, at about 9:40 a.m. local time," Seoul's Joint Chiefs of Staff was quoted by the Yonhap news agency. According to (Anadolu).
"It flew more than 930 kilometers (578 miles)." It added.
US President Donald Trump also reacted on his tweet Tuesday to the missile launch: "Does this guy have anything better to do with his life?"
Their talks cemented Seoul's plan to push for dialogue with Pyongyang while aiming to denuclearize the authoritarian state.
North Korea's state-run media also carried a statement Tuesday that said peace on the peninsula could be achieved through the withdrawal of American troops and weapons rather than South Korea's "subservience" to the U.S.