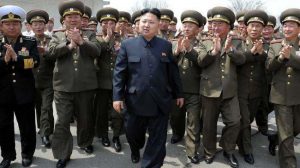 North Korean leader Kim Jong Un ordered an increase in producing more solid-fuel rocket engines and rocket warhead tips by further expanding engine production process.
Kim Jong Un posed his demand while visiting the country's Chemical Material Institute of the Academy of Defense Sciences.
North Korea carried out its first ballistic missile test in February. Producing solid-fueled ballistic missile, capable of carrying nuke warhead, is counted as a key achievement in producing military weapons. Quoted from Euro news.
Meanwhile, Russian state department says that continuing sanctions against North Korea with the aim to prevent this country from nuclear and ballistic program, is not an effective measure. The reaction was posed after America passed new sanctions against North Korea.
America added 6 Chinese and Russian citizens and 10 firms in the sanction list against North Korea.
According to American officials, these people had a role in developing North Korean nuclear program through trade relations with Pyongyang.