The people of the world show their commitment to modernity, along with ancient values and attention to the bounties of nature by celebrating this glorious day.
---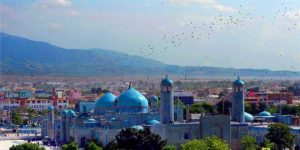 Today, two opposing views on Nawroz (New Year) are systematically taking place in Afghanistan and its neighboring countries. Behind one of these perspectives is the backward and extremist thinking that the celebration of Nawroz is called non-religious function, and by declaring this ancient and great human tradition as "Haram" seeking to destroy its iron and steel columns using valuable tools. This thought! In the geographical area where we live, have deep roots that have projected various movements from many years by political strategies, in the words of Levi Althusser, using "ideological mechanisms". These movements have now had ups and downs on social networks, media, and information technologies. One of the weirdest messages, I have seen on facebook pages over the year and it is very much touched, is this: "this is Abdul Rahman. Abdul Rahman does not celebrate Nawroz. Abdul Rahman knows that Nawroz is the eve of fire-worshippers. Abdul Rahman is very intelligent. Be like Abdul Rahman!!"
This extremism has had many feedbacks. The important point is that if the positive feedback is in accordance with the sender's will, then that message has had an effect and is close to the sender's goal. But if the feedback is contrary to the purpose of the source, it means that the message itself has a problem or the message transmission has encountered problems.
By reviewing the feedback of this message, we see that millions of people in Afghanistan and the world have strongly dismissed the message. Most Facebook users, writers and supporters of this post have described the anti-celebration of Nawroz as retarded, extreme and anti-human values.
One of the messages was from a father who posted the photo of his daughter and declared his opposition to those who consider Nawroz Haram. It said: "this is Parwana. She celebrates Nawroz. Parwana knows that Nawroz is the eve of humanity and peace. Parwana is an intelligent student. She along with her father and mother present a smile to her citizens by celebrating Nawroz. Be like Parwana!"
The fans of this message, who are millions of Afghans add to the importance of this day by celebrating it. People in Afghanistan celebrate Nawroz by preparing traditional foods, setting up happy and peaceful plans. Poetry, sporting and local competitions, Jahanda Bala and other … Happy events are the programs of the ancient festival of Nawroz in Afghanistan. Balkh province is among the provinces of the country that celebrates New Year with special programs.
The people of the world show their commitment to modernity, along with ancient values and attention to the bounties of nature by celebrating this glorious day. Historical background and cultural significance of Nawroz is a good excuse for solidarity and celebrating social and human values. Above all, Nowruz is a symbol of equality, peace, and convergence. It says no to violence, discrimination, and anti-cultural thoughts. Nawroz is the symbol of regional and world convergence.In all, Nawroz will become global day by day. The guards of this may-day are the great ones such as the Mawlana Rumi Balkhi, Hafez Shirazi and the like. Nowruz is rooted in a more ancient culture than people like Abu Bakr al-Baghdadi and others reject it.
Sayed Abdul Basir Mesbah – University professor and communication researcher
Translated by Taher Mojab