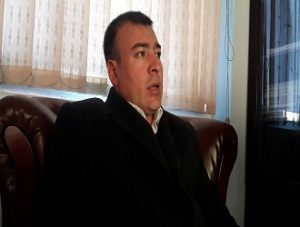 Provincial officials of Faryab says that Norway monarchy has applied roughly 4 thousands projects in the security, social, economic and cultural fields in this province.
Sayed Anwar Sadat, Faryab's governor welcomes Norway's aid and cooperation in security, economic, social and cultural parts and said to (DID) press agency that Norway royal country has implemented hundreds of small and big projects since several years ago.
Norway's aid were in the fields of agriculture and ranch, establishing dams, distributing Kashmiri goats, creating aviculture and ranch, kennels, dams, back up walls and other public work services. Faryab governor added.
Mr. Sadat also said that this country has helped financially and technically too.
He says that Norway on the part of education has built up school buildings and also a number of training centers in the capital and districts of Faryab so far, and has cooperated on health services, clean drinking water networks and professional training to youths including the girls.
Faryab governor continued: this country distributed more than 6 thousands solar power stands in Kohistan, Pashtun kot, shirin Tagab, Bilchiragh, Qaramqol and Dawlat Abad districts of Faryab.
Provincial officials of Faryab says that Norway has helped, constructing health clinics, central prison installations, 700 seats conference hall of the province, conference hall for women, small dams, electricity and establishing warehouses.
In the meantime, Faryab's women affair director, Sharifa Azimi expressing happiness about the aid of Norway Royal country on women affair, and told: Norway's aids in creating job opportunities for women have continued since 2003 in this province.
It was helped to Faryab's women, with the support and cooperation of Norway royal country on the parts of health care, handicrafts and education, Azimi added.
Faryab's women affair director expressed that more than 6 thousands women benefited Norway's aids in the center and districts of this province.
She considered these helps (Norway's aids on the part of creating job opportunities for women) helpful in decreasing violence against women in Faryab.
Faryab's women affair director, demanded continuous cooperation from Norway Royal country on women's economic growth and said that this country can make handicrafts machines to create job opportunities for women, so that they become financially self-sufficient.
On the other hand, Ghulam Sakhi Bayan, Faryab's education director has appreciated Norway's helps on the part of the education in this province and said: Norway has built 142 school buildings within "PRT" team, since started its activities.
He says, "Constructing 142 school buildings by Norway, solved the problems of more than 200 thousands students".
Faryab's education director said: despite, ongoing projects of Norway in the fields of constructing schools' building, this country starts-up training programs to increase the capacity of teachers and students, too.
He continued: Norway's cooperation on the parts of education will never be forgotten, and the name of this country will be registered in Faryab's education history.
However, Norway's projects are still being adjusted in the fields of construction, raising capacities, ranch and agriculture, business, sports, civil society, youths, empowering women and fortifying Faryab's provincial offices via (Actid), (Dakar NCA) organizations.
In the recent one and a half decades, Norway Royal country has had valuable and remarkable activities in many provinces of Afghanistan, in different fields. It can be said that currently thousands of Afghan refugees live in Norway, too.