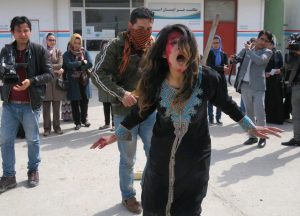 Youths and civil society activists of Mazar-e-Sharif marked the second anniversary of Farkhunda assasination, by demonstrating Farkhuda murder scene, and also demanded punishment for the criminals of this event.
According to (DID) news agency report, dozens of civil activists, youths and scholars of Balkh province urged punishment for the perpetrators of the case, during a protesting assembly on the occasion of second anniversary of Farkhunda's innocent murder.
The assembly was set in three parts, lecture and painting and live performance scene of the event.
Dr. Najibullay Paykan, member of Balkh's civil society organization considered the death of Farkhunda, a taint and disgrace to the community of Afghanistan.
He called the aim of this conference to demand justice for victims of violence and said: as long as the criminals and perpetrators of Farkhunda and other similar cases are not punished, the protests will continue.
Mr. Paykan also expressed concerns about the unclear case, not to punish the killers and said: escaping and criminals impunity of law and justice is more dangerous than opium and terrorism.
"Government's silence on these cases may led to a public uprising," he stressed.
Shabnam Sharifi, a theater actor, who played the role of Farkhunda, considers the unpunished killers of Farkhunda, a shame and disgrace to the government and authorities.
She believes that fighting violence, not with slogans but should accompany actions.
Amina Kohistani coordinator of the program said that two years have passed since Farkhunda's case, but the perpetrators of this painful issue have not been punished yet.
According to her, not to punish offenders, fear and panic will increase among the population, specially women.
Meanwhile, Farkhunda, a 27-year old woman, who was falsely accused of burning Quran, was heinously and brutally beaten and killed near (Shah-e-Doshamshera) mosque on Hut 29th , 1393 (March 19th, 2015), in Kabul.
It is noteworthy that 13 people charged in connection with this incident, but have not punished yet.