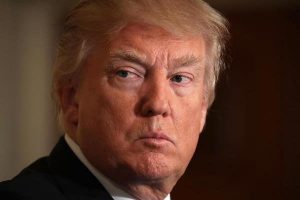 U.S President Donald Trump slammed Pakistan in his first tweet of the New Year and described the 33 billion dollars in aid to Islamabad as 'foolish' which it received Pakistan's sharp response.
Meanwhile, former Afghan president Hamid Karzai backed up Trump's clear stance against Pakistan.
"The United States has foolishly given Pakistan more than 33 billion dollars in aid over the last 15 years, and they have given us nothing but lies & deceit, thinking of our leaders as fools. They give safe haven to the terrorists we hunt in Afghanistan, with little help. No more!" Trump tweeted.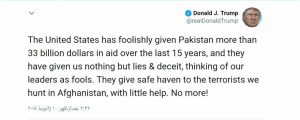 "The United States does not plan to spend the USD 255 million in FY 2016 in Foreign Military Financing for Pakistan at this time," a senior administration official told PTI on conditions of anonymity.
Hamid Karzai, the former president of Afghanistan, praised President Trump on Monday for challenging Pakistan to increase its cooperation on anti-terrorism measures.
"President @realDonaldTrump tweet on Pakistan's duplicitous position over the past 15 years is vindication that the war on terror is not in bombing Afghan villages and homes but in the sanctuaries beyond Afghanistan," Karzai wrote in a Twitter post. "I welcome today's clarity in President Trump's remarks and propose a joint US – regional coalition to pressurize the Pakistan military establishment to bring peace to not just Afghanistan but the entire region."
On the other hand, Pakistani Foreign Minister Khawaja Asif promptly said that his government was preparing a response that "will let the world know the truth". Later, according to Pakistan's Dawn newspaper, Pakistan's Foreign Office summoned the US Ambassador but there was no word from the foreign office on the agenda of this sudden meeting.
On Twitter, Pakistan's Defence and Information ministers hit back at Donald Trump.
Pakistan's Defence Minister Khurram Dastgir-Khan said the US had received for "free" "land and air communication, military bases and intelligence cooperation that decimated Al-Qaeda "for 16 years "but they have given us nothing but invective and mistrust".
This comes as former Indian Ambassador to Afghanistan Vivek Katju told NDTV that it was likely that a cut in aid, even if it were to happen, would not be enough to get Pakistan to deliver on terror. "If Trump wants to bring Pakistan to heel, he will have to apply far greater pressure," he added.
It is noteworhty that US-Pakistan relations blurred after the announcement of a new strategy by Mr. Trump on Afghanistan and South Asia, in which Pakistan was accused of supporting terrorism.