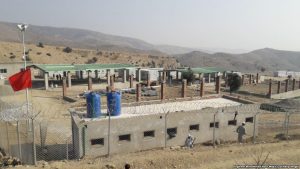 Pakistan has formally reopened the Ghulam Khan pass, its third major trade route with Afghanistan, officials said on Thursday.
Pakistan closed the trade route in 2014 and now, officially opened the trade route on Wednesday, ending a four-year closure, according to Pakistani officials.
Pakistan had closed the Ghulam Khan border route in 2014 since launching a military operation against the outlawed Tehrik-e-Taliban Pakistan (TTP) in Northern Waziristan, bordering Afghanistan.
The militants' hideouts have been destroyed and now the area is completely secured, Pakistani sources added.
Pakistani Prime Minister Abbasi along with Army Chief Gen. Bajwa traveled on Monday to North Waziristan agency and ordered the formal resumption of trade activities on the route.
The move came after the last month's meeting between Abbasi and Afghan President Ashraf Ghani in Kabul to discuss various issues including bilateral trade falling almost in half from $2.7 billion to $1.4 billion over the last two years.
North Waziristan is one of Pakistan's seven semi-autonomous tribal regions, one which has been a stronghold of Tehrik-e-Taliban Pakistan (TTP) and other terrorist networks.