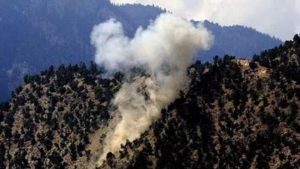 Afghanistan's Kunar province had witnessed at least one thousand rockets during past three days, being fired from Pakistan soil.
"182 rocket on Sunday, 342 rocket on Monday, and during past 24 hours 469 were fired to Kunar province from the Pakistan territory," said Kunar police Chief Jomagul Hemmat.
According to him, these rockets were fired at Dangam, Shaltan, Khas Kunar, Sarkano, Asmar, and Marwara districts, which three civilians were injured, at least 3 houses were destroyed and more than 250 other families were displaced.
Pakistani rocket attacks have been resumed while the new US strategy on Afghanistan accused this country of sponsoring terrorists.
Meanwhile, the Pakistani forces say they are targeting terrorist militants in Afghanistan's soil.