Pakistan's defense minister is expressing concern about a White House statement saying the U.S. military has been given authority to eliminate militant safe havens in Pakistan.
---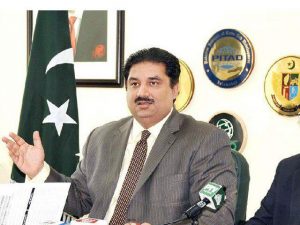 In an interview with VOA's Urdu Service, Pakistani Defense Minister Khurram Dastgir Khan said he takes the statement "very seriously."
"We want to make it clear to the U.S. that Pakistan is a sovereign country and its sovereignty must be respected," Khan said.
"Instead of using these words, which can be interpreted in any way, Pakistan should be consulted," he added. "Statements like this are taking us away from peace in Afghanistan."
The White House statement was published deep within a late Tuesday email to the press that listed Donald Trump's foreign policy accomplishments during his first year as president.
"President Trump's conditions-based South Asia Strategy provides commanders with the authority and resources needed to deny terrorists the safe haven they seek in Afghanistan and Pakistan," the White House statement read.
Pakistan-U.S. relations have deteriorated rapidly. Last month the Trump administration cut nearly all security aid to Islamabad until the country takes stronger steps to deal with terrorist networks operating in its territory.