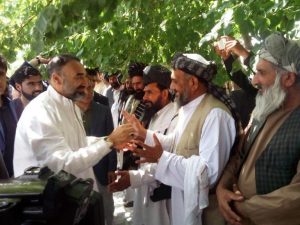 Dozens of tribal elders and youths from Khost, Paktia and Paktika provinces vowed that attending Etelaf-e Nejat-e Afghanistan (Afghan rescue coalition) is the only way to obviate current problems of the country.
According to DID news agency report, a group people and youth representatives, who came to Mazar-e Sharif from Khost, Paktia, and Paktika provinces, met with Ata Mohammand Noor, Balkh Governor and the chief executive of Jamiat Islami of Afghanistan.
Colonel Mirza Khan, Haji Mirza Ali and Haji Ridigul who came on behalf of the provinces, said: "forming a coalition from among the people has created a wave of hope and therefore, we express our support for the coalition."
They stated that there has not been done so much in the field of reconstruction and education in their provinces during last two decades.
Balkh governor Ata Mohammad Noor also stressed that one of the goals of the coalition is to create empathy and unity among the ethnic groups and to reform the establishments.
"Etelaf-e Nejat-e Afghanistan is being formed and meeting with the representatives of parties and people is underway," Mr. Noor added.
"Etelaf-e Nehjat will be a formation that represents all nations of the country and all people will share their opinions.
It is worth mentioning that on Thursday, thousand people rallied in support of "Etelaf-e Nejat" in Mazar-e Sharif.