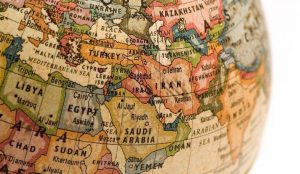 Sunday (July 9th) was a milestone in the history of Iraq and other affected countries from a fearful phenomenon called Daesh (ISIS/ISIL). Because on this day, it was officially announced that Daesh kneels in Iraq's Mosul. Mosul great mosque was a place, where "Abu Bakr al-Baghdadi vowed existence with a caliphate cloak. According to New York Times reporters, now in the same mosque, the Iraqi soldiers are belittling the IS militants and its caliphate system, taking "Selfi" photos. ISIS's defeat in Mosul is very heavy and irreversible for the "Islamic State of Iraq and the Levant" or in the words of the Iraqi Prime Minster "the state of superstition." In the last breath, they began to commit suicide in despair and relieved a group from terrible suffering and nightmare by destroying themselves. Now according to "Hubbard" and "Eric -Schmidt"- foreign analysts – Baghdadi's caliphate has been on the path to collapse as its ascendance begun.
Despite Daesh heavily defeated in Iraq's "Mosul" and "Reqqa" in Syria, it should not be assumed that Daesh has completely disappeared, because IS group internationally has "operational and takfiri thoughts" and will not easily destroy. A phenomenon that only Americans has nearly spent $ 9 million since 2014 to eliminate it. At least around one hundred people have lost their lives daily due to the constant bombardment … and by December 2016, the average daily cost of operation against ISIS had exceeded $ 11/4 million.
Undoubtedly, despite all the above issues, and the killing of Daesh forces in Iraq and Syria and more importantly the death of Abu Bakr al-Baghdadi, the caliph of the system, the presence of IS group and its affiliates will be much weaker in other countries, including in African countries and the Middle East.
There are also concerns in Afghanistan that whether their supporters and fighters will either disappear from Afghanistan after the defeat of ISIS in Iraq and Syria or every day, a number of innocent people will be a victim of their merciless plots and massacres? Considering the mentioned issues and Daesh's crackdown in Iraq and Syria, IS fighters will be weakened in Afghanistan too and would not be the same as before in terms of military and suicide operations. This speculation is possible when the secretary-general of the United Nations had recently announced in a report that Daesh is financially in a critical state and militarily turned to defensive status in Afghanistan, Iraq, Libya, and Syria. ISIS has roughly adapted itself to the situation with communications, covert recruiting, and extending its areas. Daesh's internal communication and recruiting have sharply decreased and has lost many of its territories and military campaigns against IS have had a dramatic effect.
In addition to physical, military, and human weaknesses, financial shortages have weakened them too; because this group had had financial sources from the very beginning and now is losing them. According to Tasnim news agency report, quoted from Foreign Policy, Daesh has lost about 80 percent of its incomes and two-thirds of its territories compared to 2015 and according to (I.H.S Market) report – an analytic institute located in London – the monthly revenue of ISIS/ ISIL group has decreased from $ 81 million in the second four months of 2015 to $ 16 million in the second four month of 2017, which shows a drop of 80 percent.
Political experts believe that "Post-Daeshi Middle East" will not be safe as that much, considering the physical and psychological defeat in Iraq and Syria and reducing their vast financial revenues; so pose these probabilities: turning to guerrilla wars and destroying the basic infrastructure of the countries, and fulfilling Abu Bakr al-Baghdadi's theory – Daesh's strategic theorist savior – to damage "the maximum residents and maximum infrastructures." In fact, implementing a land-burnt politics. The ISIS's aim is to completely destroy region's infrastructures involved in conflicts, by doing so, they can make the most damage and turn those places into a scorched and completely destroyed ground.
Preparing for "Inhiyaz al-Sahra" (temporary retreat to the desert) means fleeing to the desert after being defeated to make themselves for another operation. Retreat to the desert was first posed by "Abu Mohammad al-Adnani" the ISIS spokesperson in his last speech before being haunted by U.S drones. He said that losing a territory does not mean the failure of IS and they turn to deserts, and come back to cities with all preparations.
Reposing to suicide attacks on women with children in hand: there is this possibility that like their previous operations in Iraq, they will once again face the governments with a secret and irregular army. If this happens, the complexity of the operation and the struggle against them will be far more and more difficult.
Intensifying individual suicide attacks or in other words, the raid of "lonely wolves" to cities and desired goals: Afterwards, because of the large military operations that involve huge expenditures and the accumulation of human resources, they may turn to individual suicide operations or carry out suicide attacks in the form of operations with some few people; as they are conducting such operations now.
In sum, it can be concluded that ISIS is physically and financially getting weak; but ideologically, it is not possible to get rid of them soon. Considering the above possibilities, the resources and important economic and military centers of many Middle East states and part of Asia continent will be targeted by the "wounded wolves" and the remains of Daesh (ISIS/ISIL).
Dr. Fazayili – (DID) press agency
Translated by: Taher Mojab