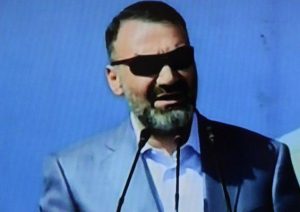 Balkh governor and a senior member of the Rescue Coalition Ata M. Noor once again stressed that power monopoly must end, speaking at a conference held in Mazar-e Sharif to commemorate Martyr's week.
"We do not allow terrorists and those who back terrorists to trample martyrs' ambitions with monopoly and tyranny," Noor underlined.
According to DID news agency report, "the Rescue Coalition is created to change the reforms of the establishment," said Ata M. Noor at the conference held in Balkh, attended by Dr. Abdullah Abdullah, the chief executive of the national unity government and a number of political figures, he then added "we are ready for any negotiation to maintain the great interests of the country."
Mr. Noor also called for the elimination of all obstacles to General Dostum's return to the post of first vice president at the conference, adding, the political gap and the barriers created against Gen. Dostum do not have any legal basis.
Warning the government about going towards tyranny, the prominent member of the Coalition for the Salvation of Afghanistan said: "those who want to revive the past tyranny are making a big mistake."
Pointing the goals of the "Rescue Coalition" Mr. Noor stressed: "the coalition seeks to improve the establishment, not to overthrow it."
Mr. Noor also called on the community to listen to the voice of millions of Afghan people, instead of listening to the words of some "fake" people.
"Some people try to undermine the prominent figures of by deceit and organized assassination," Balkh governor said.
It is worth mentioning that Dr. Abdullah's visit from Balkh and his attendance at the commemoration ceremony of Martyr's week in Mazar-e Sharif, suggests that the government wants to negotiate with Ata M. Noor.