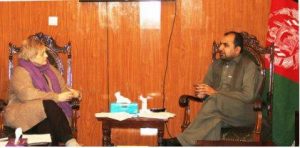 Acting Minister of Information and Culture and Deputy Minister of Youth Affairs, Dr. Kamal Sadat, stressed on preserving cultural heritage, in a meet with Patricia Mc-Philips director and representatives of UNESCO in Kabul.
According to (DID) news agency report, quoting from (Bakhtar) – during the meeting Dr. Sadat emphasized on protection of historical relics and said preservation of cultural heritage and historical monuments is Ministry of Information and Culture's (MOIC) top priority.
Acting minister of information and culture also asked people to cooperate with the ministry in protection of their heritages, calling it the country's unique identity and history.
Meanwhile, UNESCO representative in Kabul informed of her office's durable support and cooperation with the ministry.
UNESCO is one of MOIC's close partner in term of restoring and protecting historical monuments and relics, that different cultural related projects are currently going on in different provinces of the country through UNESCO's support and funding.