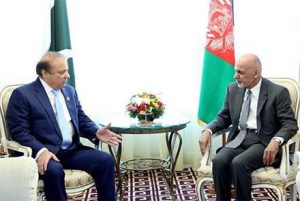 President Ashraf Ghani and Pakistan's Prime Minister Nawaz Sharif this weekend held a bilateral meeting on the sidelines of the Shanghai Cooperation Organization summit in Astana in Kazakhstan and agreed to intensify their joint efforts to fight terrorism.
According to (DID) news agency report, Ghani's office said in a statement that Sharif joined the president in condemning the recent terror attacks, especially the wave of violence in Kabul following the May 31 truck bombing in the city that killed over 150 people and wounded hundreds more.
Those who died were innocent Afghans, but the target appeared to be diplomatic sites – an act against the Geneva Convention, said the statement.
Ghani meanwhile said in the statement: "The increase of violence especially during Ramadan and at the funeral of martyrs was unacceptable." He stressed the urgency to reduce the level of violence against civilians in Afghanistan. Quoted from (Tolo News).
"It is therefore imperative that Afghanistan and Pakistan should give hand to hand to eliminate these terrorist networks and their sanctuaries." He said.
According to the statement, the two leaders agreed to intensify their joint and urgent efforts to fight terrorism in all of its forms that threaten the security and stability of the two countries, the region and beyond.
The leaders agreed to use the QCG to promote peace and reconciliation in Afghanistan. It includes China and the United States, as well as Afghanistan and Pakistan.
The statement said Afghanistan is willing to have peace. He further added: "The Afghan government has not only shown its will but also displayed its capacity to make peace as it did with the Hizb-e-Islami. This is the first peace of such kind in 40 years."
The two leaders further agreed they would take all necessary measures against those groups who refuse to join the peace process.