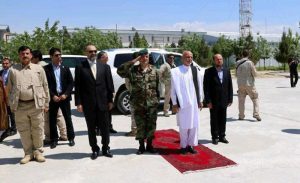 Authorities of army 209th Shaheen corps say that the president has issued an order to launch various operations in order to suppress the oppositions in his trip to Balkh province.
According to (DID) news agency report, Mr. Ghani first visited the wounded people of the bloody events in Mazar-e-Sharif and then closely inspect the area, while Atta M. Noor accompanying him. Nasratullah Jamshidi, a spokesman for 209th Shaheen corps in an interview with (DID) news agency said.
"The president besides condemning the attack, calling it an inhuman and brutal act," Jamshidi added.
"The president attended a meeting which the security officials also participated in the north of the country and ordered security forces to increase their military and repressive operations against terrorists," Jamshidi said.
Mr. Ghani also ordered the chief of staff of the defense ministry to seriously investigate Friday's incident.
"Nearly 200 ANA soldiers were killed and wounded, as a result of Friday's attack," Jamshidi added.
Some other sources say that nearly 150 ANA soldiers were killed and more than 150 others were wounded.
Yesterday afternoon, President Ghani left Mazar-e-Sharif to Kabul.
It is noteworthy that the media was not permitted to attend the president's trip to Balkh province.