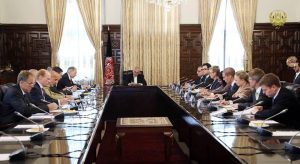 Yesterday (Tuesday, 11 July), president Ghani met with Michael Mellbin, E.U special representative for Afghanistan and ambassadors of the European Union member states.
Both sides discussed holding parliamentary election, Kabul process and its future and Afghanistan's relations with the International community, specially the European Union, according to ARG statement.
President Ghani appreciated E.U's continued support in various fields during the meeting, specially election, security, development, health, education and their standing beside the Afghan People.
Michael Mellbin, the E.U's special representative said at the meeting that we back Afghanistan in various fields. "We are ready to cooperate with Afghanistan in this regard," he added.
He considered relations between Afghanistan and the European Union deep-rooted and once again reassured the Union's continued cooperation with Afghanistan.
Meanwhile, President Ghani once again thanked partners and international organizations and institutions contributing to Afghanistan, saying that providing your security is important to us.