Latest News
Slideshow
Resolute support mission in Afghanistan: New year, IS year of ISIS failure in Afghanistan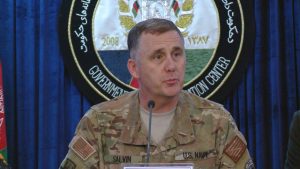 Resolute support mission (RSM) in Afghanistan named the year 1396 (solar year), "the year if Daesh (ISIS) failure in Afghanistan."
According to (DID) news agency report, RSM and ministry of defece spokesmen talked about security status and eliminating terror groups in Afghanistan.
Wiliam Slavin, spokesman of RSM in Afghanistan says that last year, Daesh group lost two thirds if the area under its control, as a result of deadly attacks of support forces in Afghanistan and fifty percent of its fighters have reduced, too.
RSM in Afghanistan warned ISIS that the pressures of war will continue on this group in cooperation with Afghan forces and the group never think about "safe nest" in Afghanistan and
Mr. Slavin stressed that Russia's cooperation can be effective only through the government of Afghanistan in the fight against scaremongering, considering Russia's relationship with the Taliban.
He noted that contact with Taliban will not prevail peace and stability in Afghanistan.
Meanwhile, national defense ministry says that serious measures have been taken to curb war in spring.
Dawlat Waziri, spokesman for the national defense underlined that now all army camps equipped across the country and will be used by the command of defence minister and the president, in case of emergency.