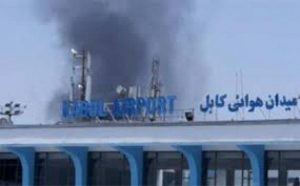 The International airport of Hamid Karzai, known as Kabul airport was hit by three rockets moments ago, as the US Defense Secretary James Mattis arrived in Kabul on Wednesday with NATO Secretary General Jens Stoltenberg.
The visit marks Mattis' first trip to the country since US President Donald Trump announced a new Afghan strategy in late August, CNN reported.
A spokesman for the ministry of interior affairs Najib Danish confirmed that three rockets hit near Kabul airport, but did not gave details about the casualties of the event.
According to DID news agency report, eyewitnesses say: rocket fire is still heard in the area.
US defence secretary is set to hold talks with President Ghani and other ministers after visiting the commander of US forces in Afghanistan Gen. John Nicolson. Later, he'll hold a press conference with Ghani and the NATO chief.