The United States' new anti-Russian sanctions cover those biggest Russian businesses that refuse to play to Washington's scenario, the Russian embassy in the United States said in a statement on Friday.
---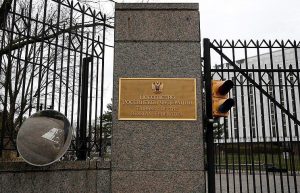 "Washington has delivered yet another blow on the Russian-US relations. Now, the sanctions cover captains of Russian business who refuse to play to Washington's scenario," reported by Tass as saying.
The US sanctions are seen as an erroneous step killing the freedom of enterprise and competition and impairing integration processes in the global economy, the statement added.
The United States Treasury department on Friday put a number of influential people and entities on its sanction list due to undermining democracy in west. Moscow however rejected the claim.
The assets of all 24 people from Russia and 15 various organizations that fall under the US sanctions and under US jurisdiction have been blocked, and American entities are banned from dealing with them, according to the US Treasury Department.