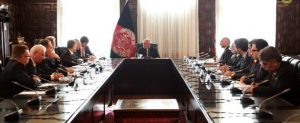 Russian national security adviser Nikolay Patrusheve heading a high-level delegation met with President M. Ashraf Ghani in ARG palace.
President Ghani and Mr. Patrusheve talked about security issues in the region.
According to ARG palace statement, Russia's national security adviser said his country wants a stable Afghanistan and is ready for any kind of cooperation in the fight against terrorism.
However, president Ghani had previously accused Russia of supporting Taliban which followed a sharp reaction from Moscow.
Russia has been involved in Afghanistan issues in recent months and is concerned over stability in Central Asia, as the war transferred from South to North.