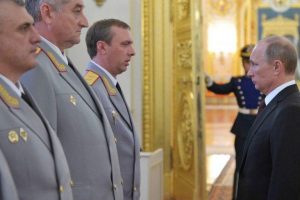 Russian president Vladimir Putin celebrated his country's victory in Syria to honor military personnel returning from Syria.
According to Newsweek, Moscow claimed to have a decisive victory not only against militant groups but also against US and western interests.
Russia and Iran are close allies of Syria that backed up this country during civil conflicts.
Russia entered Syrian war in 2015 and now, reportedly welcomed the return of 600 soldiers and officers of the country and appreciate their service in Syria.
This comes as Iraqi government had previously celebrated their victory over ISIL terror group.
Meanwhile, the Russian foreign minister Sergei Lavrov has said, Americans must leave Syria as soon as possible.
He added that Russia can communicate with all parties involved in the Syrian war and guarantee the political future of this country.