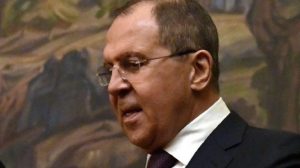 Sergey Lavrov, the Russian foreign minister in a telephone call with his American counterpart, has demanded the U.S forces to stop their attacks on forces loyal to the Syrian government.
According to (DID) news agency report, Lavrov during a telephone conversation with Tillerson has said that attacks on forces loyal to Bashar ul-Assad government in Syria, is not acceptable for Moscow. Quoted from (Radio Farda).
Lavrov also asked Tillerson to take fundamental steps to prevent such events in the future, during the phone conversation.
It is noteworthy that last week, U.S-led coalition warplanes targeted Syrian forces positions near the Jordanian border, which a number of forces were killed and wounded.