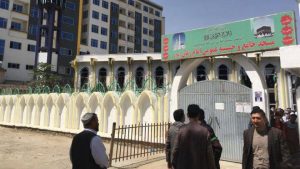 The Kingdom of Saudi Arabia and OIC strongly condemned the attack on Imam Zaman mosque in Kabul, which killed and wounded dozens.
An official at Saudi Arabia's Ministry of Foreign Affairs expressed condolences to the families of the victims, and to the Islamic Republic of Afghanistan and its people, quoted from Emirate News agency.
Meanwhile, the General Secretariat of the organization of Islamic Cooperation (OIC) has also strongly condemned the suicide attack on Imam Zaman mosque in Kabul on 25 August.
The OIC secretary general, Dr. Yousef A. Al-Othaimeen, voiced his shock and dismay at his horrific attack that targeted worshippers praying in a holy place.
He stated that the perpetrators and supporters of this deplorable crime have definitely no place among Muslims.
He further expressed his sincere condolences to the families of the victims, the people and the government of Afghanistan.
While reiterating the OIC's support in the fighting extremism and terrorism, the secretary general called on all Afghans and Muslim leaders to vigorously work toward solidarity and brotherhood among themselves and to unite their ranks against any attempt to stir sectarian division.
It is said that at least more than 40 persons were killed and more than 90 others were wounded in the attack on Imam Zaman Mosque on August 25.