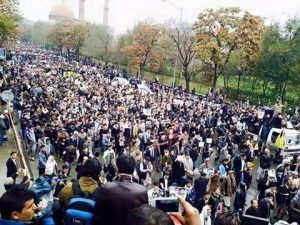 Donald Trump's recent Jerusalem decision and relocating U.S embassy from "Tel Aviv" to Al-Quds, faced sharp reactions from around the world and anger of Muslims.
Although leaders of the world took an anti-Trump stance, the national unity government which has two heads and lots of problems, in a "conservative" statement, expressed its concerns against this action.
The Afghan government which we can consider it John Kerry's "born of mind" did not even bothered itself to condemn the White-House move.
We cannot criticize this so-called national unity government; because its "remote control" is installed in an embassy that runs by the White-House.
A government that takes order from the "blue eyes businessman" (Trump), even for the type of coverage of the leaders and gestures during lecture.
But on the other side of Afghanistan's riddle, is the people; the people that bring the UK to its knees three times, sent the "Polar Bear" to his nest in Siberia and now, have faced with "McDonald" and "John Ringo – the Wild West."
If the Afghan government cannot "stand up' against its supporter and inferior, the Afghan people still breathe and there is a live, faithful and Mujahid nation to stand up against Trump's action and his "new world discipline" and defend from the rights of Palestinians who are the common pain of all Muslims and free-spirit people of the world.
Massive protests have been held across the country against the US Jerusalem move from Badakhshan, Herat, Kandahar, to Balkh provinces.
The people in Balkh province, both Shiite and Sunni, the members of the provincial council, the Shi'a and Sunni Ulema council, the Islamic brotherhood council, and hundreds of people gathered at Rawza-e Mubarak Grand mosque and condemned Trump's Jerusalem decision.
The people also protested against this inhuman and anti-Islamic measure in Kabul's Kart-e Parwan and other areas of the capital. But this time, the government neither face with gangsters nor with its political opponents to open "fire" on them. This time, the anger is for "belief" for "faith;" the faith that people sacrifice themselves, but not bend over.
Zaher Shokoohmand – (DID) news agency
Translated by Taher Mojab