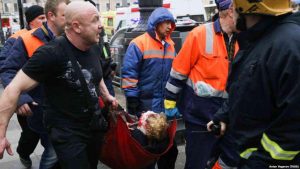 At least 11 people were killed in a blast on the St. Petersburg metro Monday, three state-run Russian news agencies said. Russian Prime Minister Dmitry Medvedev described the attack as a "terrorist act."
The explosion tore through a train as it was traveling between two stations in Russia's second-largest city.
A second, larger device was found and defused at another station, Russia's Anti-Terrorism Committee said. No group has claimed responsibility for the attack, which led to the shutdown of the city's metro system. Quoted from (CNN).
Alongside the dead, 51 people were injured in the incident, according to CNN affiliate RBC.
Four of the injured are in critical condition, Health Minister Veronika Skvortsova said from the Dzhanelidze Research Institute of Emergency Medicine, where many of the wounded are being treated, according to the state-run Tass news agency.
The blast occurred just after 2:30 p.m. local time, as the train was traveling in a tunnel from Sennaya Ploshchad to Tekhnologichesky Institut stations in the city center. In the confusion, initial reports suggested there were two blasts.
President Vladimir Putin, who had attended a press conference in St. Petersburg, in response to the blast said that had been informed by Russian security authorities and the officials are investigating possible terrorist incident of the explosion.