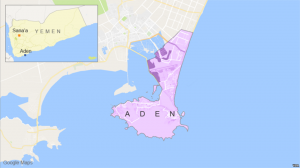 A suicide car bomber killed at least five soldiers in the southern Yemeni city of Aden on Sunday, security official said.
The attack took place at a checkpoint outside the main security headquarters in Aden's Khor Maksar district, according to VOA.
Sunday's bombing was heard across the city and a plume of smoke could be seen from miles away.
Clashes erupted in the area immediately, though, it was unclear who was behind the attack or the clashes that followed.