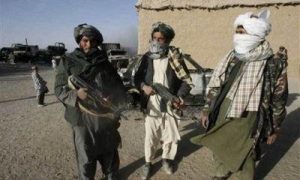 Two suicide bombings hit Taliban in southern Helmand province on Wednesday, officials said.
The first happened by a faction loyal to Haibatullah at 6:00 a.m. involving a car bomb that was detonated among fighters loyal to Mullah Rasool in Dasht-e-Siminar of Greshk district.
At least four fighters were killed while five more were wounded in the incident, according to provincial governor's office.
Mannan Niazai, a spokesman for Rasool faction, confirmed the blast to 1TV but declined to comment on casualties.
In an apparent revenge attack, a suicide bomber from Rasool side detonated explosives among a group of Hebatullah's fighters, hours later around 11:00 a.m.
The blast left four fighters of Hebatullah dead and two more injured.
There have been several clashes between the Taliban factions in the past. However, this is the first time that suicide bombers are used in their rivalry.