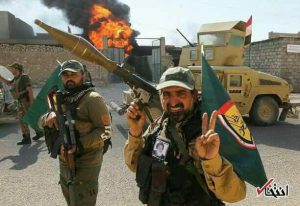 Iraqi military released all regions of Tal Afar from ISIS in Western Mosul and completely took the control of all areas.
Gen. Abdul Amir Rashid Yarallah, commander of the liberation operation vowed that the ground armored units, the second, the ninth and the eleventh of Hashd ul-Sha'bi forces released Al-Askari, Al-Sana'a Al-Shamaliya, Al-Mu'arez areas and also the gate of the city. Quoted from Anadulo news agency.
According to the Iraqi commander, Iraqi forces took the control of all areas in Tal Afar city.
Pointing that just Al-'Eyaza district is in control of Daesh terror group, he said: Iraqi troops has launched an operation to take the control of this area too.