The Afghan president M. Ashraf Ghani during a joint press conference with Indonesian president Joko Widodo held in Kabul on Monday said Taliban are trying to escape political isolation.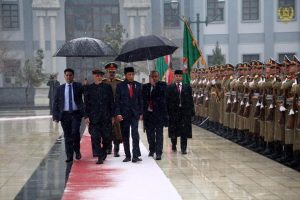 "Taliban bosses have ordered them to launch bloody attacks in Kabul to escape political isolation," the Afghan president said during the conference.
Although Mr. Ghani did not name any specific country, added: "Taliban bosses are in political isolation and are pushing to get out of the isolation."
Meanwhile, Indonesian president Joko Widodo says his government will establish an Islamic center in Afghanistan and continue to stand by the country. He also says Indonesia is ready to help Afghanistan with developmental projects.
More
Mr. Widodo vows cooperation in areas of trade, infrastructure and education during the press conference.
Indonesian president offers condolences over recent attacks in Afghanistan.