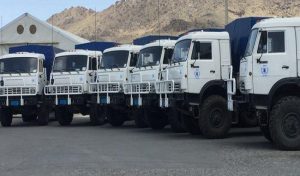 Taliban group abducted 8 vehicles carrying foods for displaced people in Ghor province Thursday, says a member of provincial council.
According to DID news agency report, Taliban took away these vehicles from Ghor's Shahrak district.
"Taliban took away these vehicles on the way to Ghor province which were sent by World Food Program (WFP) for displaced people of the province," said Abdul Hamid Natiqi, a member of the provincial council in Ghor province.
Meanwhile, Abdulhay Khatibi, a spokesman for Ghor's governor office confirmed the report but did not give exact details of the number of vehicles.
"Armed Taliban are extorting vehicles on Herat-Ghor highway by creating an economic committee," Mr. Khatibi added.
There were many reports that Taliban are extorting vehicles in different parts of Ghor Highway.