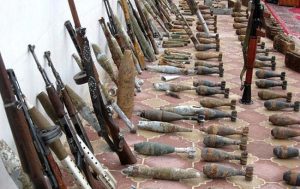 Provincial officials in Afghanistan's Ghor province say, a large Taliban's depot was discovered in the province.
The depot was discovered by the national security forces in Ferozkoh city, the capital of Ghor province.
"The national security forces discovered this depot during an operation," said Abdulhay Khatibi, spokesman for the governor of Ghor province.
"Taliban have taken a large number of weapons and ammunition of the security forces as having control over Taywara district of the province during a week," he added.
Seven Kalashnikovs, more than two hundred bullets, a PK with hundred bullets, a rocket launcher and machine gun are among the confiscated weapons.