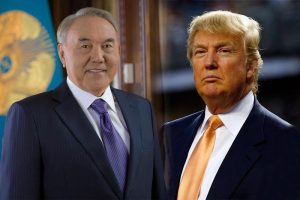 U.S. President Donald Trump will discuss 'international challenges' including Afghanistan with Kazakh President Nursultan Nazarbaev on 16 January.
According to Kazakh state news agency, Trump and Nazarbaev will discuss Afghanistan relations with Russia and the war in Syria, along with trade issues, during their talks.
"From a political perspective, we cooperate on solutions and promotion of regional and global security. The meeting will focus on the situation in Afghanistan, the Syrian conflict, and relations with Russia," said Sanat Kushkumbayev, deputy director of Kazakhstani institute of strategic research under the President of Kazakhstan.
Afghanistan is likely to be high on the agenda during Kazakhstan's security council presidency.
This comes the 15-member delegation included the president of UNSC Kairat Umarov and envoys from countries including U.S., China, U.K., Russia and France discussed security situation in Afghanistan and the region, counter-terrorism, corruption, drug trafficking, acceleration of peace process, preparation for elections, reforms in governance, strengthening the establishment, women's participation in governance along with ramping up pressures on Pakistan should be increased for ensuring stability in Afghanistan the Afghan president in Kabul.