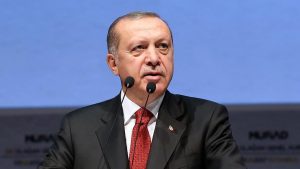 Turkish president held phone calls with Qatari Emir, Vladimir Putin, Kuwait Emir and King of Saudi Arabia to discuss crisis among some Arabic countries and Qatar.
Recep Tayyip Erdogan held phone calls with Qatari Emir Sheikh Tamim bin Hamad al-Thani, Russian President Vladimir Putin, Kuwaiti Emir Sheikh Sabah al-Ahmad al-Jaber al-Sabah, and King Salman bin Abdulaziz Al Saud of Saudi Arabia. Quoted from (Anatoli).
Erdogan has stressed on the active role of "diplomatic dialogue" in his remarks.
Turkish president underlined that his contacts and talks will continue about Qatar's crisis.
Meanwhile, Ibrahim Kalin, Turkey's presidential spokesman reiterated Turkey's sadness over the incident, and said it stood ready help if needed.
"At this point, there is a need for peace and stability and to take the necessary steps towards the common goal of all countries in the area and called for dialogue and negotiation among the members of the Gulf Cooperation Council (GCC)." He added.
It is worth mentioning that yesterday, Saudi Arabia, Egypt, Bahrain, the UAE and Yemen cut off all diplomatic relations with Qatar.