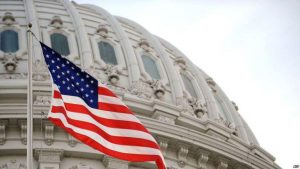 U.S Senate and congress have recently approved a bill to intensify sanctions on Russia and Iran. According to them, they have reacted to Russia's involvement in Ukraine, the attempts to manipulate America's election and the Iran's crisis measures in the Middle East.
The question is that Why the United States has made such a decision against Russia and Iran, what factors and causes led to this decision and what is the impact of Iran-Russia sanctions on Afghanistan!
If we look at the history of U.S policy against Russia – its traditional rival- and the Islamic Republic of Iran, a number of specific reasons can be sought for U.S approval of new sanctions plan.
The economy and domination in the Middle East and Europe are the reasons that forced America to boycott Russia and Iran; if there are no sanctions, the hegemony after the Second World War in the Middle East and West Europe will be eliminated. In fact, sanctions are tools by America to keep that hegemony.
Western Europe is heavily devoted to Russia's energy sources, something which is not acceptable to America and tries to reduce this relation between Russia Gazprom and the Western Europe and to keep away countries like Germany, France, and Netherlands from Russia.
Sale of arms to Arab countries in the Middle East and North Africa is another reason for sanctions against Russia. The United States knows that occupying Arab's arms market by Russia is not in the favor of U.S manufacturing companies. So, the boycott is a way to retreat Russian firms producing arms.
But sanctions on Iran depend more on foreign investments and Iran's trade relations with the European Union and China than with the policies of the Islamic Republic of Iran.
Investment of the European and Chinese firms accelerated in Iran after "Bargam" and also the Islamic Republic called for the purchase of planes form "Airbus" – an EU airliner company – that the request is not at all appealing to Boeing's taste. On the other hand, the total consortium investment in Iran's oil extraction sector has also broadened the Islamic Republic relation with the West and China and America is unhappy. If the EU is dependent on Russia's energy sources and invests in Iran, in that case, its dependence of the United States will step down and NATO's military barrier will be shaken; something that America will never accept.
U.S problems in imposing sanctions
Although the United States has been able to seriously damage the economy and trade of Russia and Iran, using sanctions, but to enforce the new sanctions, it should have the support of EU and China which does not seem to be coming up soon; while the people's republic of China and the EU have a lot of economic relations with Iran and Russia and America should not expect them to sacrifice their interests for Washington's policies. Therefore, the White-House consider great points to the EU and China to make them back the sanctions.
Impact of Russia-Iran sanction on security in Afghanistan
U.S military presence in Afghanistan is not approved by Russia and Iran. Iran has a largely common culture and the joint border with Afghanistan and Russia has had long-standing relations with this country too.
Iran's influence over radical groups can bring serious problems in Afghanistan's security sector and certainly Iran will take retaliatory action from this channel; something that the Iranian presidency rhetoric signs that too. According to this issue, Iran will come up with problems against Americans in Syria, Iraq, and Afghanistan.
On the other side, Russia is in contact with Taliban and it is nonsense to assume that it will not conduct any action and silently accept the boycott.
Afghanistan's military forces are depended to weapons produced in Russia since the past. Now that the issue of sanction is posed, the Afghan national army and other branches of armed forces will face a lot of problems; something that cannot be easily ignored. In this regard, the Afghan air force that uses Russian choppers will suffer the lack of technical components and repair services too.
Although sanctions have served the United States, America does not have that hegemony after the cold war anymore.
Zaher Shokoohmand – (DID) news agency
Translated by: Taher Mojab