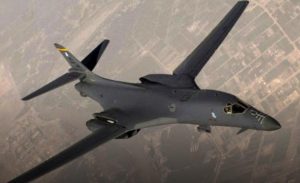 US strategic bombers flew over the Korean Peninsula in a pointed show of force in response to Pyongyang's latest intercontinental ballistic missile, American officials said Saturday.
US B-1B bombers along with fighter jets from the South Korean and Japanese air forces participated in the 10-hour bilateral mission, practicing intercept and formation drills. qouted from AFP.
Meanwhile, US President Donald Trump, who lambasted Beijing on the social media outlet for failing to rein in their North Korean allies.
"I am very disappointed in China. Our foolish past leaders have allowed them to make hundreds of billions of dollars a year in trade, yet they do NOTHING for us with North Korea, just talk," Trump wrote.
"We will no longer allow this to continue.
The maneuver followed Pyongyang's second ICBM test this month late Friday, with Kim Jong-Un saying the move demonstrated the country's ability to strike any target in the United States.