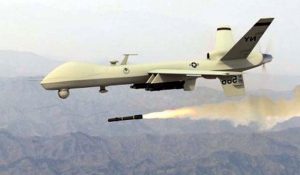 The death toll from a US drone attack on a compound used by the Haqqani network has risen to 26, Pakistani officials said Tuesday.
The attack on Monday targeted a meeting of Haqqani fighters in Pakistan's remote tribal Kurram district along the Afghan border.
"First drone strike killed five fighters from Haqqani network and minutes apart a second drone then fired two more missiles after militants arrived to retrieve dead bodies from the rubble," a senior government official in Kurram told AFP.
"So far 26 dead bodies have been retrieved and drones are still flying in the sky," the official said.
The Haqqani terror network is one of the strongest terror factions that usually conduct vicious attacks on NATO troops and Afghan installations over the years.