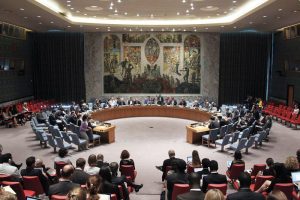 The exchange took place Friday at the UN Security Council meeting on the issues of peace and security in Afghanistan.
The United States called on the Pakistani government not to provide safe havens for terrorist organizations.
U.S. Deputy Secretary of State John Sullivan said the United States can't work with Pakistan if it continues to give sanctuary to terrorist organizations and need to stop this and join efforts to resolve the Afghan conflict.
On the other side, Pakistan's U.N. Ambassador Maleeha Lodi said that Afghanistan and its partners, especially the U.S., need to address "challenges inside Afghanistan rather than blaming others for their failures."
The Pakistanis ambassador said the Trump administration should address safe havens inside Afghanistan and its income from the narcotics trade.
Earlier this month, the Trump administration announced it was suspending military aid to Pakistan until it take a decisive action against terrorist organizations in its territory that threaten the region and world.
This comes as more than 2 million Afghan people were directly affected by armed clashes in 2017, with some 448,000 having to abandon their homes to save their lives.