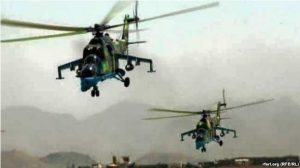 US helicopters evacuated Daesh terror group commanders from several districts of the Deir ez-Zor province in eastern Syria on Wednesday, the Syrian Arab News Agency (SANA) reported citing information received from local residents.
US helicopters evacuated the IS commanders from the Deir ez-Zor province to Al-Hasakah province in northeastern Syria. Tass News agency quoted from SANA. According to the agency's sources, this is the second time the US evacuates IS terrorists.
Earlier in the week, the Syrian government sent a message to the United Nations, accusing the US-led coalition of making deals with the Daesh terror group and coordinating its actions with the terror group.
On the other hand, the Russian Foreign Minister Sergey Lavrov said commenting on the BBC report on 16 November that the US-led coalition and its Syria allies had stroke a deal allowing around 250 IS militants and about 3,500 members of their families leave the city of Raqqa in October.