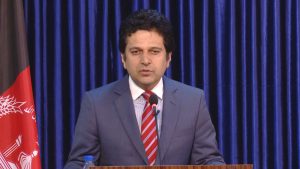 Executive directorate officials say that using mother of all bombs (MOAB) in Achin district of Nangarhar province, gives a clear message to Pakistan and regional countries to give up backing scaremongering groups in Afghanistan.
According to (DID) news agency report, Mujib Rahman Rahimi, a spokesman for the executive directorate said that Pakistan, China, and Russia should fight against scaremongering, instead of competing.
Executive directorate stressed that the U.S and the government of Afghanistan know well that where are the terror centers and hence, it is needed that Pakistan should review its support of scaremongering groups.
On the other hand, the government's executive directorate strongly criticized countries which back the Taliban.
A spokesman for executive directorate vowed that the Taliban group is a terrorist movement, not political. Any country which recognizes the group as a political group, the government of Afghanistan condemns it.
Earlier, Moscow has repeatedly said that it was in contact with the Taliban group and accepts it as a political movement. Although, Russia rejected its aid to Taliban, but tries to practically establish talks between Afghanistan and the Taliban.