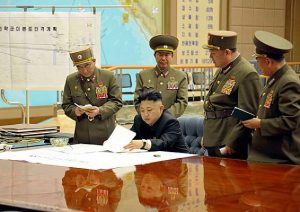 North Korea's government warned about "disastrous consequences" due to any new "provocation" by America after deploying several US warships towards North Korea's peninsula a day ago, and vowed that they are ready to battle against America.
In recent days, it was announced that the US decided to change the route of an aircraft carrier "Carl Vinson" along with its warships, which was scheduled to go to Australia and has sent towards North Korea's peninsula.
The decision was then taken that the joint maneuvers of America and South Korea added to tensions between Washington and Pyongyang.
Yesterday, a spokesperson for North Korea's foreign ministry, in response to America's measure, said that "the responsibility of any disastrous consequences arising from heinous acts of America is fully on the United States of America." Quoted from foreign media.
"North Korea is ready to answer the war that America wants, by any form of bug." The spokesperson added.
North Korea also said that 'we will take severe measures to conduct reciprocal action against irritants and to defend ourselves, with the help of the powerful force of our weapons'.